AMS Students Launch Weather Balloon
Apr 14, 2016
---
Students in the ham radio course as part of the BLAST after-school program aren't just learning about ham radio, they're experiencing it! For the past seven weeks, Jerry Goodson W5BFF has been working with four students who are working towards passing the technician exam. Launching the weather balloon was the "hands on" exercise during the course.
"I can't say just how proud of those guys I am!" Goodson said. "Those kids have really put a lot of heart and effort into learning about ham radio. I'm ecstatic the school administration is so supportive of this program, and that every student at the Atlanta Elementary School was able to witness the launch."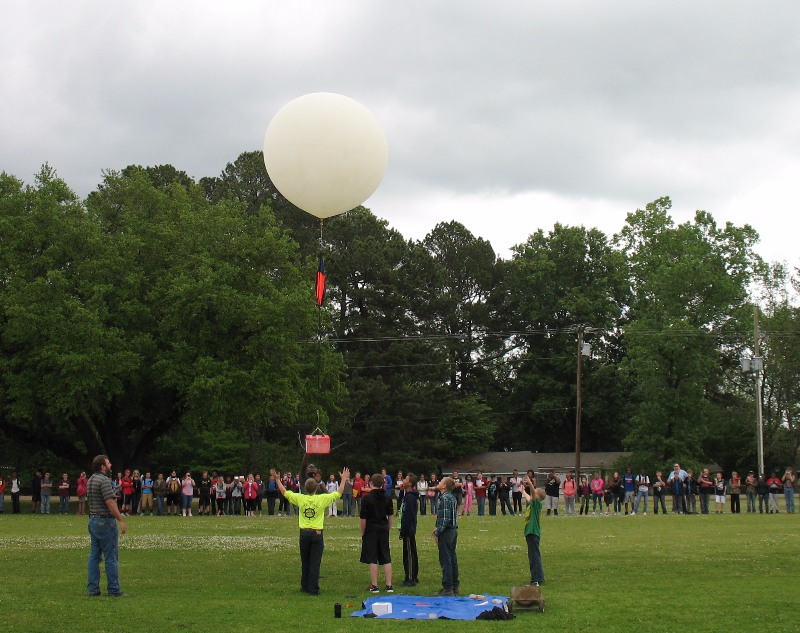 Bobby Horn Jr., a reporter for the Atlanta Citizens-Journal, was on location and the Sunday edition of the Journal featured a very nice story of the event. The Atlanta ISD featured the event on their website and facebook page, complete with pictures and a video.
Several members of the RACC showed up to witness the event: Jim and Joann Collom, John and Dena Spann, Nelton Humphries, Danny Richard, and Precinct 3 Commissioner Paul Cothren.
Danny Richard took his 6-year-old granddaughter, Mia, out of school in Pittsburg so she could watch! When she returned to school, she was telling her class about the launch with amazing detail, particularly in the technical aspects of the launch and flight. Her class couldn't believe what she was telling them and the teacher called Danny. He went and spoke to the students, confirming what Mia had already told them... only he had pictures!
Updated: Apr 16, 2020
The story was updated, removing several broken links from the original publication
---